Celebrating the Successes of Iron Ridge Campus in Blackfalds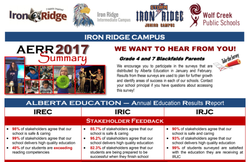 School News
Author Visit with Corky Larsen-Jonasson
Posted on

January 18th, 2018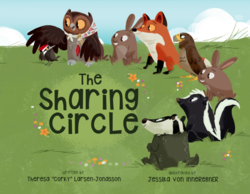 IRIC is pleased to have "Corky" Larsen-Jonasson, author of the children's book, The Sharing Circle, visit our school on Monday, January 22, 2018, from 9:45-10:30am.
Introductions, welcome and protocol of gifts
Reading of Land Acknowledgement
Student performance of "Waniska" - Ancient Cree Morning Song
Author presentation
Corky will speak, sing and inspire our school with her wealth of stories. Corky explains the meaning behind protocol and teaches the fundamental concept that everyone is part of one sacred circle including us as people but also the animal, nature and the elements. Corky inspires through storytelling and song that each person should be proud of their heritage. Corky has her new book to share with the kids (The Sharing Circle) and to teach students how to have their own sharing circle. Parents are invited to join us for this exciting opportunity.
Corky is a proud Cree/Danish Metis Elder with roots in Red Deer and Maskwacis First Nations. She lives her life according to the traditional indigenous teachings that saved her life. These teachings flow from her parents, her 93-year-old Kokom, Christine Joseph of Cochrane, aunties, uncles, as well as from the Goodstrikers, Williams and John Crier families, all of whom she loves immensely. Corky serves as a member of the National Collective of the Walking With Our Sisters missing and murdered indigenous women awareness movement and a proud member of Red Deer's Red Feather Women. She is also a member of the Urban Aboriginal Voices Women's Council and Red Deer Welcoming and Inclusive Communities Network.