Back to all posts
Posted on
Prairie Gourmet Perogy Fundraiser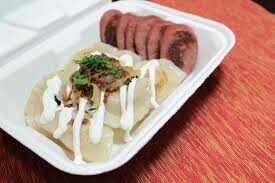 Bar-B-Que Weather is coming and our newest fundraiser with Prairie Gourmet Perogies has started! Orders can be placed by completing the form online through your Parent Portal account. Orders are due April 15. Delivery of purchased product will be on Thursday, May 6th, 3pm-5pm.
Thank you very much for supporting our school!
Please note:
The participant (student) who was selling the product is responsible to pick up all the boxes they sold, and get them delivered to the customers who bought from them. Please do not send each individual buyer to pick up, as it causes too many problems to have that volume of people coming to the truck. The orders will be sorted by seller, not buyer.
Frozen product information:
If delivering each of their orders is going to take the seller longer than 30 minutes, we recommend bringing a cooler with ice packs to put the product in if the weather is warm. The sausage is not as sensitive, it can last about an hour and still safely be refrozen, but the  perogies stick together if they thaw at all - usually within 30 minutes on a warm day.